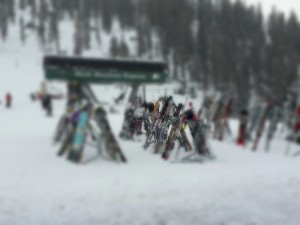 We had a fantastic experience at Arapahoe Basin with all of our kids having successful ski experiences!  The classes are exceptional and the snow fabulous!  We went during the Kids Ski Free session in December and the slopes were full, but not overcrowded.  The kids got the attention they needed from their instructors and in spite of the cold temperatures, most of the kids wanted to stay on the slopes for awhile longer.  We are from a much warmer climate, so we took 3 days for this adventure, ski school the first and third day, and a day trip to Breckenridge in the middle.  
We chose to for a private lesson for the five older kids in our party and we added the two little boys to the group lessons for pre-preschoolers.  We were fortunate as the pre-school classes were not full and our little guys received almost private classes!  
The teachers were professional and super fun!  They paid attention to the needs of our kids and we were very pleased.
These opinions are my own and I am currently not being paid for this blog article.  Although, my KIDS loved their time there and would be super super excited if someone decided to gift them a few lift tickets for next season!  (-:
The pictures are also mine, and although I have not copyrighted them technically, I ask that you please do not copy any of my photos without permission from me.  Thanks!  You can send me a note through this web pages contact me link.  I will respond to a personal note that  is NOT spam. Thanks!
Also, I found this wonderful blog that a-basin has on their home page!  Check it out!  The Spring skiing looks amazing! 
http://arapahoebasin.blogspot.com/
Here is the link for Arapahoe Basins own web site. http://www.arapahoebasin.com/