The Arizona Science Center was a short 20 minute train ride from the PHX airport!  We were able to navigate our way there with a little help from the friendly folks at the airport. We had about 6-7 hours of "down" time between flights, so we took our carry-on luggage with us and headed downtown!  It was worth the trip!
Once we got off the train we had to walk about two blocks, it was very hot I admit, and we were ready for a cold drink and lunch when we first arrived at the museum.
We are members of the Fort Worth Museum of Science and History so we were able to use our reciprocal benefits and we had free admission the the Arizona Science Center.  See their regular prices here.  I highly recommend a membership for those of you who travel around the United States at all as FREE is a good thing!
Here is a map to the museum!
Our first stop was the Many Hands Make a Home Freeman Gallery.  My children loved to build and to see how the walls inside a home are put together. There was a plumbing area where the kids could put together a plumbing system.  It was hands on and they wanted to stay in there all day!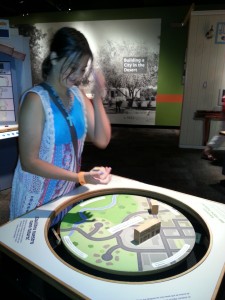 I pulled them away to the next exhibit hall, W.O.N.D.E.R and All About Me!  They were amazed and enthralled!  For my Classical Conversations friends, this is worth a visit if you have a community any where near Phoenix!  Here is a GREAT YouTube Video to help you with your Cycle 3 memory work as well!
My son was a bit grossed out by this particular "slide"  
He LOVED this sneezing nose though and laughed and laughed with each sneeze!
This zit formation succeeded in grossing me out! But…it was educational…
Super brain wave activity! 
Next, we headed upstairs to the 2nd floor:  Get Charged Up room! This room provided active fun for all of my active kids!  The Physics in this room made for much learning by doing! (please forgive the photos here, this room was a bit hard to take photos in due to the lighting!)
The third floor offered the Forces of Nature and the "My Digital World" where we spent the remaining part of our afternoon visit.  These exhibits provided hours of fun learning for the kids!
Last floor, 4th floor, was worth the visit as we enjoyed Solarville and the energy discussion and activities.  This is  a small area, but well worth the time to trek through!  There are some very interesting bug collections on this floor as well!  (please forgive formatting for this page…I am still learning and inserting the photos/media properly have been a challenge)