Thermopolis, Wyoming Dinosaur Dig Site!
<<<<actual bones found at this location!!! SO SO cool!
First, we started our day late because mom was not feeling well.  This dinosaur museum was about a three hour drive from our campsite in Dubois, Wyoming to Thermopolis! I fell asleep on this drive.
BUS TOUR
Kids and adults alike hopped right on the bus and headed up the ROUGH mountain road to the dig site. Our guide told us all about the many types of bones they found and what type of land, which layer of the earth the bones were found in.   All in the tour asked many questions and looked at all the bones we could see at the S.I. site! (this stands for Something Interesting) Continuing on to another site nearby called Near Something Interesting or something funny like that! The tour guide spoke about how all the bones in this site are lined up in the proper order, as in full size dinosaurs died here.
LONG NECK DINOSAUR
Next, our family saw the current long neck dinosaur they are in the process of digging up. Explanations for the silly naming of the dig sites is given on the tour. This is something you will have to just visit to find out by yourselves!  She explained how they have people just like us and volunteer Paleontologists come out every summer to help dig as well. It took awhile for her to explain how they transport the bones, it was so interesting!  You will have to go on the tour to find out for yourself!
PHOTOS AT THE DIG SITES!
Photos of the dig site?  Sorry!
So sorry! Be prepared with Dramamine, (Here is the one for kids, moms likes it best!) if needed road was bumpy and it was so hot!  Our batteries in our phone cameras were dying and I left my camera at the campground this day!  Had to take photos inside only after we charged them up a bit.
As an option to see this site, here is a link for photos of the DIG SITE!
MUSEUM
Lastly, the museum was so interesting.  Plans are in the works for a new HUGE building to be opened in the next year or so. You will find the entire skeleton of the dinosaur dug up at the "SI" site is located inside! May want to plan a full day, we only had a half day and could have spent more time enjoying this museum.
PHOTOS IN THE MUSEUM
Plan at least an hour in the current museum.  We only had 45 minutes in the museum and then they had to close, so we headed to dinner. A nice yummy Thai place in the small town! Highly recommended! Click on the photo to LIKE their Facebook page and stop in if you ever get a chance!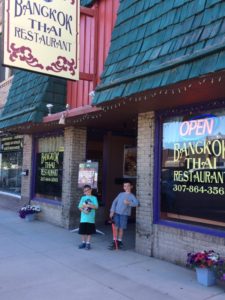 Thermopolis is home to one of the largest Hot Springs in the area I have heard!  Find out more about Hot Springs State Park link here!
By: S-Bear Teenager
"I don't know if I told you, but my mom made us take this LONG tedious road trip last summer….these are my "musings" about each stop she made us take….I just wanted to GET to my cousins up North, but she insisted we see all these Scientific, Historical, Scenic places on the way!"    2016 National Park Road Trip!
*All photos belong to S-Bear teenager, please do not copy and share without acknowledging her blog posts and sharing the links!  Thanks so much!*
*Amazon links are affiliate links, thanks for supporting our family in our educational travels!