This post is possibly sponsored. (I may or may not have enough "twitter followers" to qualify.)  Travelwithmyfamily site works to provide true experiences and educational locations for you to read about, learn about, and hopefully visit someday yourself!  I blog for as many companies as I have time to blog for, if they send me tickets or product I am appreciative. However, many places do not hire "small scale" bloggers such as myself, so I will just enjoy the places and share the experiences and insight with you as I can.  Sometimes companies supply me with factual and suggested dialogue.  I use this when it is supplied, but often supplement with my own opinions as well.  All the opinions you read on this site are my own. I also am an affiliate of a few different sites and companies.  This means that if you follow a link from my page to another business page, I may make a small commission from your support.  Thanks ahead of time!  Enjoy reading and comment kindly below!
A birthday party at the Aquarium!  Sounds like a GREAT idea to me!  We have enjoyed the SeaLife Aquarium in the Dallas area before and I highly recommend it as it is a very interactive and educational aquarium. The kids will have a ton of fun and you will enjoy it as well! 
Join the Sea Life Birthday Club. This is for the Arizona location!  Go HERE to find a location near you!  During your birthday month, the birthday child (under the age of 12) receives one free admission. An email with the coupon will be sent the month prior to the birthday.
https://www.visitsealife.com/arizona/birthday_club/
My Readers Save $3 off Child Admission and $5 off Adult Admission! – Save $3 off Children's Admission and $5 off Adult Admission at SEA LIFE Arizona. Valid for up to 6 discounts per coupon. Offer cannot be applied to pre-purchased or online tickets. Cannot be combined with any other discounts or offers. Additional restrictions may apply. The right of final interpretation resides with SEA LIFE Arizona. CODE: 1305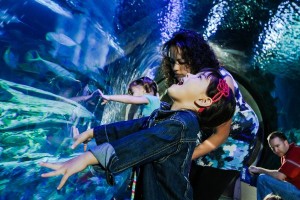 We have enjoyed Phoenix in the past! Visit HERE to read of our adventures at the Arizona Science Center!